We've talked about some of our favourite Irish whiskey and Scotch whisky products that we carry in-store — now it's time to head to the United States and take a look at Bourbon. 
Bourbon is an American whiskey made from malted grains that are at minimum 51% corn. Bourbon can be produced anywhere in the U.S., but it has to be from Kentucky in order for the name "Bourbon" to appear on the label. Straight Kentucky Bourbon must be aged for at least two years and doesn't have any additives, such as flavouring or colourants. A blended Bourbon can include other flavourings but still must include 51% straight Bourbon. Bourbon tends to be sweet, soft, fruity and slightly creamy.
Just like other whiskeys, Bourbon comes in a variety of budgets and styles, and can be sipped neat, over ice or used in a cocktail. Let's take a look at seven must-try Kentucky Bourbon whiskeys that we carry in-store at Sherbrooke Liquor.
---
Buffalo Trace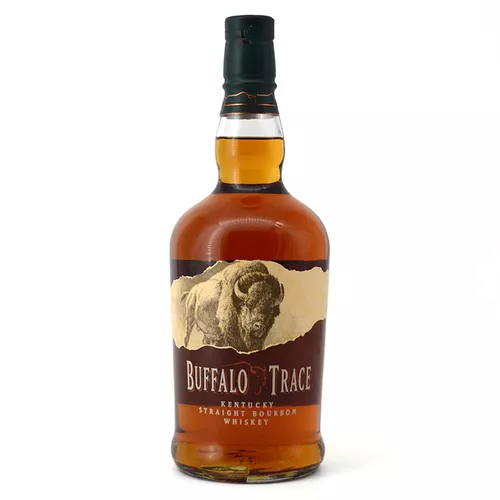 Buffalo Trace Kentucky Straight Bourbon Whiskey is distilled, aged and bottled at one of the most award-winning distilleries in the world. This whiskey ages in new oak barrels  in century old warehouses until the peak of maturity.  It's low in rye content and predominant corn, which makes it a sweet but not saccharine sipper. The taste is rich and complex, with hints of vanilla, toffee and candied fruit, with a lingering, smooth finish. It's a solid whiskey that plays well with other ingredients in a cocktail while being solid enough to drink on its own. It's affordable and high-quality, and a great entry point for a new Bourbon lover. 
---
Four Roses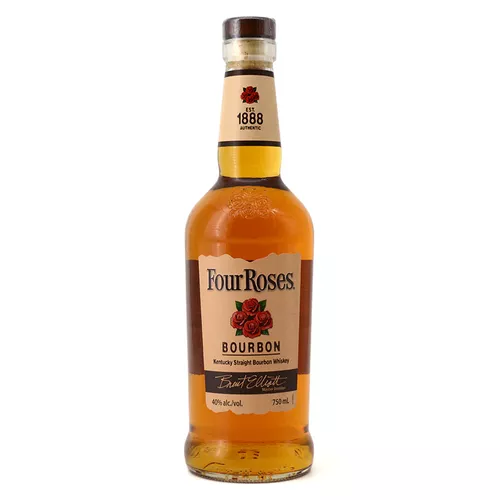 The Four Roses legacy began in 1884 when Paul Jones Jr opened an office in Louisville, Kentucky in a section on Main Street called "Whiskey Row". The legacy is continued all these years later with a passion for quality and pride in handcrafting award-winning Bourbon. Four Roses is a great, go-to budget Bourbon — it's great on its own, perfect in cocktails, and definitely one of the best Bourbons you can find at that price point. . On the nose it has fruity and floral essences with gentle spice and honey, merged with a fruity palate with notes of pear and apple. Coming in at 80 proof, it's aged for a minimum of five years, making for a smooth and mellow Bourbon with a long and soft finish.
---
Maker's Mark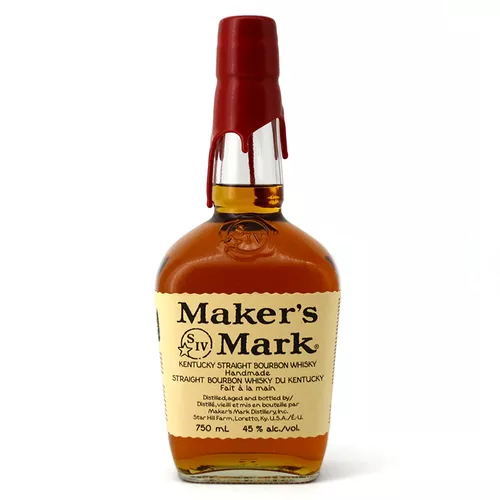 Maker's Mark is still doing things the way they did in 1953 — from their old letterpress to the way they hand rotate every bottle and hand dip every bottle in their signature red wax. You haven't fully explored all Bourbon has to offer until you've tried a wheated version. Maker's Mark Whisky (they spell it like the Scots) is wheated in that wheat is used as a flavouring grain in the mash instead of the usual rye, along with the required corn and barley. Maker's Mark uses red winter wheat, resulting in an instantly recognizable soft and sweet flavour with a nice long finish. This Bourbon is also aged to taste rather than for a set time every batch to ensure consistency — resulting in a smooth and creamy Bourbon every time with a pleasant soft spice and clean finish.
---
Knob Creek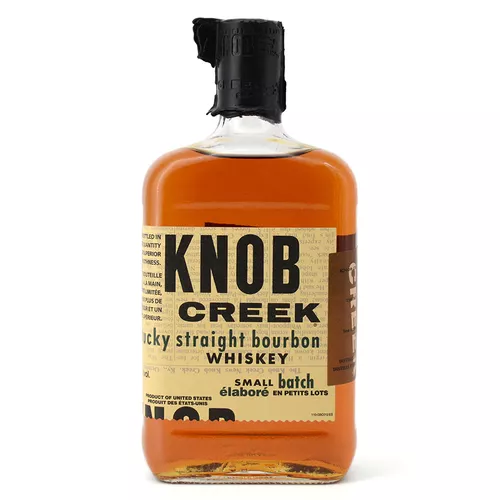 Knob Creek is a part of Jim Beam's Small Batch Colection, created by former master distiller Booker Noe in 1992 at a time when Bourbon was struggling for relevance. In the Bourbon industry, "small batch" for many brands simply means smaller volume than other whiskies they produce. It's one of the most consistently excellent of the range, with a rich caramel and brown sugar flavour along with that signature Jim Beam nuttiness shining through. Patiently aged for nine years in white oak barrels and bottled at 100 proof, it's an unflinching balance of deep, pre-Prohibition-style Bourbon with a robust oak taste, complemented with hints of smooth vanilla and layered caramel.
---
Woodford Reserve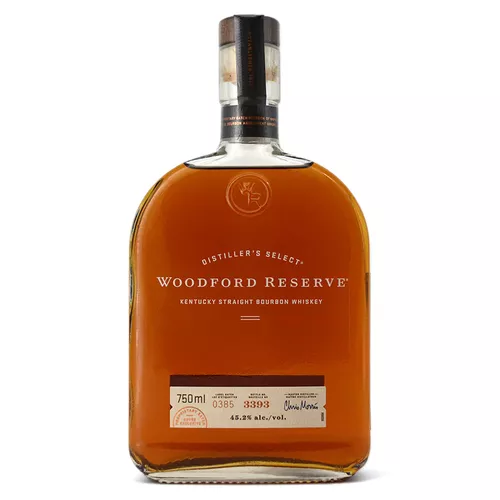 The art of making fine Bourbon first took place on the site of the Woodford Reserve Distillery, a National Historic Landmark, in 1812. The Woodford Reserve Kentucky Straight Bourbon Whiskey is incredibly balanced and smooth. Its malt bill is super balanced (72% corn, 18% rye and 10% malted barley) and it's also unique in that it is triple distilled before maturing for six years. This brand and bottle is most associated with the Kentucky Derby, and while you can certainly use it as the base for the Derby's classically refreshing Mint Julep cocktail, it makes for a wonderful Old Fashioned as well. This bar staple is sweet and just a tad spicy, comprising more than 200 detectable flavour notes, from bold grain and wood to sweet aromatics, spice, fruit and floral notes.
---
Michter's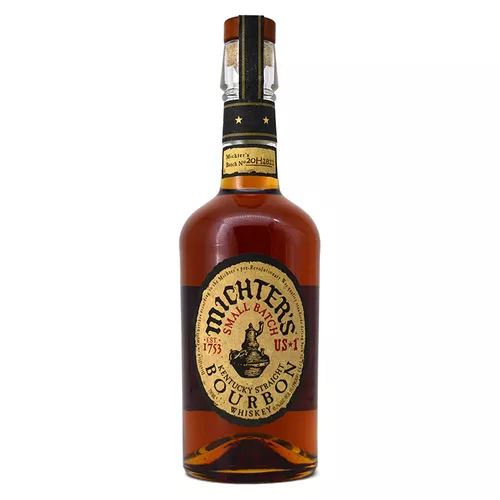 The Michter's Fort Nelson Distillery in Louisville is a small but charming operation with stills producing limited amounts of whiskey with a mashbill that features the highest quality American corn. Theirs aren't the cheapest bottles you can find, but they are some of the best. The flavour profile of their US1 Straight Bourbon hits all the right notes—sweet, spice, vanilla, cocoa, and more. Aged in new American white oak barrels and bottled at 100 proof, it reflects the nuanced, mellow and earthy spirit of the Bluegrass State. The nature of their small batch leaves no margin for "blending out" imperfection, thereby necessitating excellence from every barrel.  
---
Booker's Small Batch Bourbon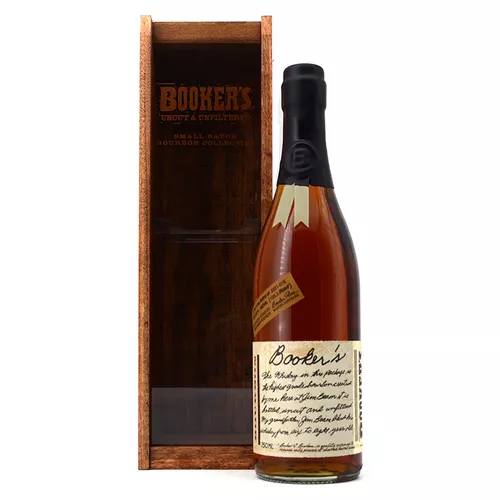 No list of must-try Bourbon would be complete without a brand completely dedicated to barrel-proof whiskey, and Booker's (part of the Jim Beam Small Batch Collection along with the aforementioned Knob Creek) is one of the best. The Booker's Small Batch Bourbon is usually aged between six and seven years and clocks in between 120-130 proof. It's strong, but not undrinkable — add some water if you want to tone it down, or mix it in a cocktail to amp up the flavour. The whiskey comes out in four batches per year, and while there are subtle and nuanced differences between each batch, Booker's remains one of the most consistently high-quality, barrel-proof Bourbon brands around.
---
Of course, we carry much more Bourbon in store and these seven picks are just a few to help you get interested in this style of whiskey. Visit either of our two locations today to chat with our knowledgeable staff about our Bourbon recommendations!