Forget green beer — this March 17, celebrate St Paddy's day at home with one of these Irish whiskies that not only taste amazing, but won't break the bank! 
The word whiskey comes from the Irish (Gaelic) word uisce beatha, meaning water of life. It was one of the earliest distilled drinks in Europe, beginning in the 12th century by monks. After a period of decline in the early 1900s, there are now over 32 whiskey distilleries in operation in Ireland. Jameson and Bushmills are old recognizable standards when it comes to Irish whiskey, so here are seven others worth knowing and trying out for that St Paddy's day whiskey fix. 
Tullamore D.E.W. Original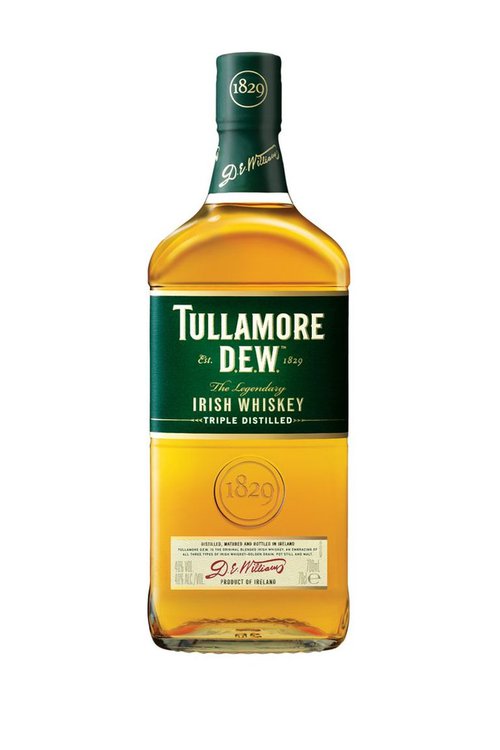 The Tullamore D.E.W. Original is a triple blended Irish whiskey and known around the world for its smooth finish, gentle complexity, and versatile, citrus-forward palette. It's a blend of grain whiskey, which gives sweet flavours, malt whiskey, which gives fruit flavours, and pot still whiskey which adds spice flavours. It's triple cask matured for depth and balance, aged in traditional refill barrels, ex-bourbon barrels and ex-sherry casks.
The distillery was first established in 1829 in Tullamore, a small town in Ireland. "D.E.W." stands for Daniel Edmund Williams, one of the greatest distillers to ever live. Now, Tullamore is on a mission to encourage blended whiskies and celebrate the beauty of the blend, both in whiskey and in humanity.
New whiskey drinkers will love how smooth and refreshing this is and how it sits on the palate. If you're using Tullamore D.E.W. for mixing, it works perfect for fruitier cocktails like a classic whiskey sour. 
Teeling Small Batch Irish Whiskey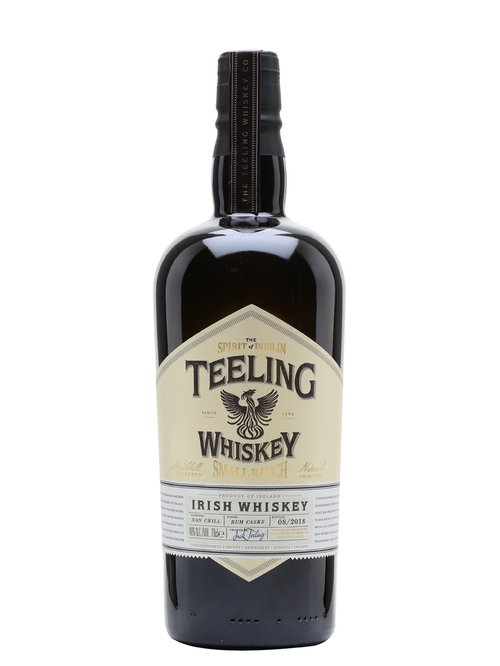 Teeling Distillery in Dublin has deep roots in the distilling industry, but are renowned for doing things differently, inspired by both traditional and unconventional techniques in distilling and maturation. A craft distillery was started by Walter Teeling in 1782, and in 2015, Jack and Stephen Teeling opened the new Teeling Whiskey Distillery just down the road from where the family distillery originally stood, making it the first new distillery in Dublin in over 125 years.
The Teeling Small Batch Irish Whiskey is finished in high quality Central American rum casks, which impart a distinct character on the whiskey. It brims with natural character and represents the innovation of Teeling Distillery, who have consistently been raising the bar for Irish Whiskey with over 300 international awards to their name. It brims with natural character and represents the innovation of Teeling Distillery — wonderfully full-flavoured, with plenty of fresh fruit, creamy vanilla and lively spice notes to enjoy.
The Sexton Single Malt Irish Whiskey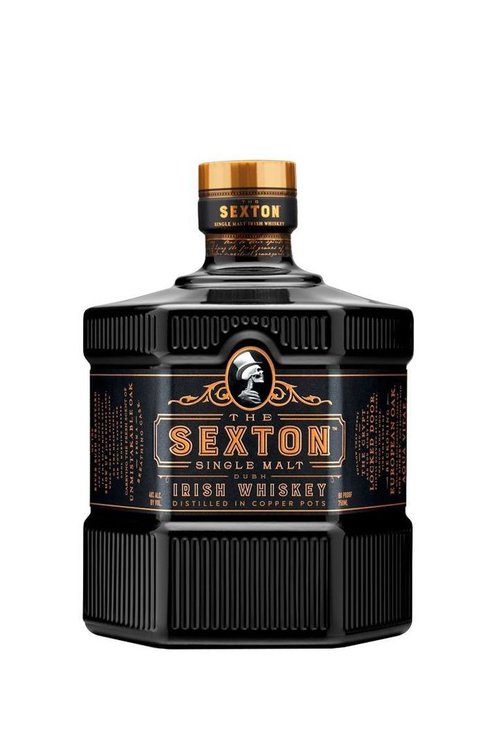 The Sexton Single Malt Irish Whiskey is influenced by the traditions of Ireland's north coast and was created by Alex Thomas, one of the few female master blenders in the industry. Made from 100% malted Irish barley and triple distilled in copper pot stills, this light Irish whiskey is aged in oloroso sherry casks from Jerez, Spain. The sherry cask brings out honey and dried fruit notes and a toasty finish in the whiskey. On the nose, rich aromas of nuts, marzipan and dark chocolate with a pinch of spice, with a palate of dried fruit followed by honeycomb sweetness, apricots, lemon zest, prunes and oak spice.
This whiskey has also won awards for its unique, hexagonal bottle design!
Redbreast 15 year old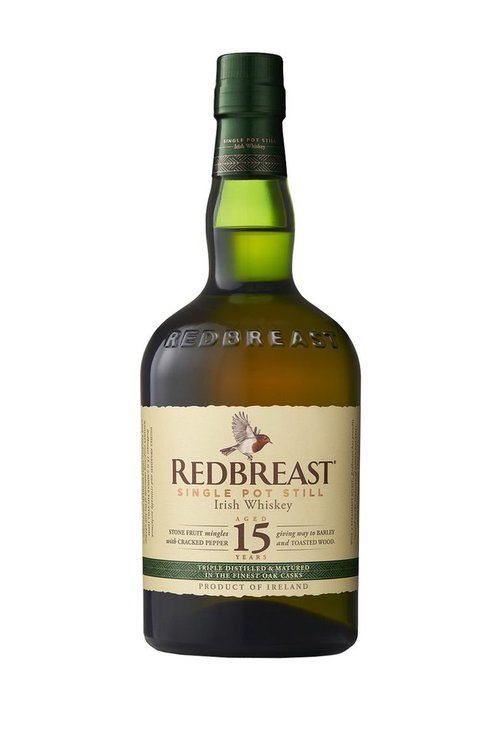 In 1912, the chairman of W&A Gilbey, a wine and spirits merchant, spotted the Robin Redbreast through the trees and decided on the name of this whiskey there and then. For more than a century, Redbreast has stayed true to the Irish Pot Still whiskey making tradition. Today, it is considered to be the definitive expression of this quintessential style of Irish whiskey making.
The Redbreast 15 Year Old whiskey is unmistakable, the Christmas cake of Irish whiskey. While at a higher price point than the other whiskeys on this list, this is due to the 15 years it spends aging in fine oak casks. The distinction is clear and it is a favourite amongst many whiskey connoisseurs! It's velvety and fruity, rich, spicy and full of dried red fruit, with just enough oak to add character and flavour without getting too woody.
Bonus feel good story — Redbreast is partnered with Birdlife International, and supports many bird conservation projects in Ireland.
The Tyrconnell Single Malt Irish Whiskey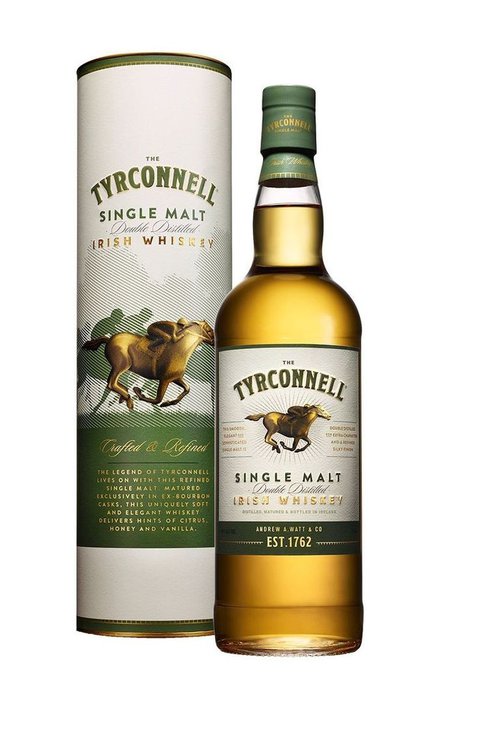 Tyrconnell was a chestnut colt who, against all odds, bested horses and oddsmakers to win the prestigious National Produce Stakes horse race in 1876. The surprise victory captured the attention of A.A. Watt, a local distiller, who decided to commemorate the occasion by creating a limited edition, small batch whiskey named after the horse. And though he intended to make it only once, it became Watt's most popular whiskey and was the best selling Irish whiskey before prohibition. Now the brand is maintained by the Kilbeggan Distilling Company, proud protectors of Irish whiskey traditions. 
The Tyrconnell Single Malt Irish Whiskey is double distilled which lets it maintain its character, creating a delicate flavour that lives along a creamy and viscous profile. It's easy to drink, balancing a lush, toasted grain flavour along with honey and soft florals  — perfect for warm weather or when the mercury drops.
Connemara Peated Irish Single Malt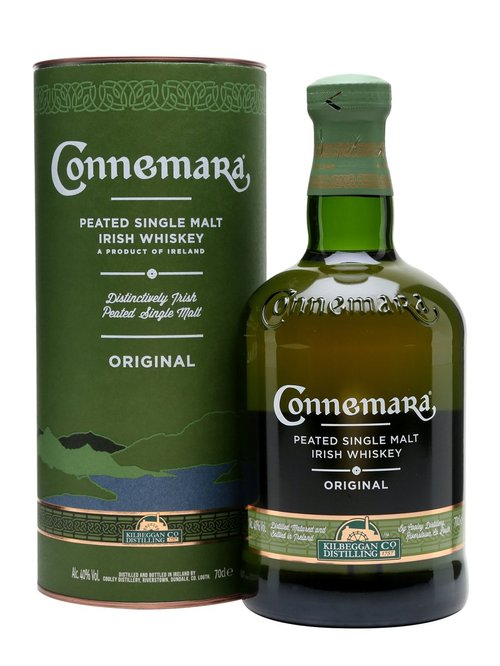 Typically, Irish whiskey isn't peated like the spirit of its Scottish neighbours, but The Connemara Peated Irish Single Malt is an exception, unique among its peers and the only peated Irish whiskey available today. This whiskey is reflective of the wild nature of the Connemara region in the west of Ireland and inspired by the 18th century art of drying malting barley over peat fires. It possesses a distinct peaty flavour and aroma complemented by a delicate smokiness and smooth, sweet taste. 
Connemara is also part of the Kilbeggan Distilling Company family, and has received over 20 medals in major spirits competitions since 2012!
Powers Irish Whiskey Gold Label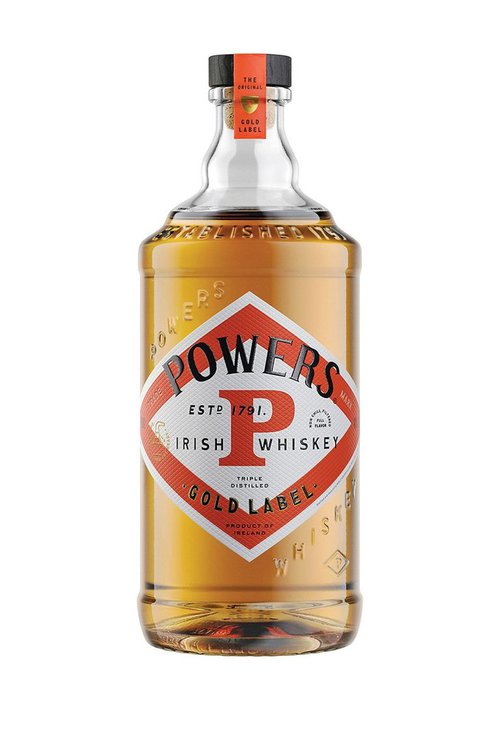 John Power & Son was one of the historic producers of Irish whiskey, and one of the big four Dublin distilleries that dominated the worldwide whiskey trade during the 19th century. It all began in 1791 when James Power added a small still to his public house, and by 1822, moved to their own standalone distillery. In 1886, Power became the first distiller to bottle their own whiskey, and Powers Gold Label was among the best selling whiskeys in the world at the time!
Now, Powers Gold Label is an Irish classic, blending single pot still Irish Whiskey and sweet Grain Whiskey, and is a heavier style due to it spending time aging in American oak casks, which is where the spicy, bold character takes hold. It has aromas of sweet shortbread, honeysuckle, cinnamon, and apple, with flavours of buttery shortbread, cereal, pears and a little milk chocolate with a spicy, honeyed finish. If you're using this whiskey in a cocktail, it works really well in a sour style drink due to its heavier profile!
Now that you've been introduced to seven different Irish whiskies, pick up a bottle in store and celebrate St Paddy's day without the green food colouring in your beer. Sláinte!