Cold crisp beer and rosé wine are two ways to beat the summer heat, but sometimes you just want to whip up something fancy for yourself or for your guests. Cool off with these 7 summer cocktails that are perfect for warmer days — plus, they're all easy to make, and use widely available ingredients, some of which we carry at Sherbrooke Liquor!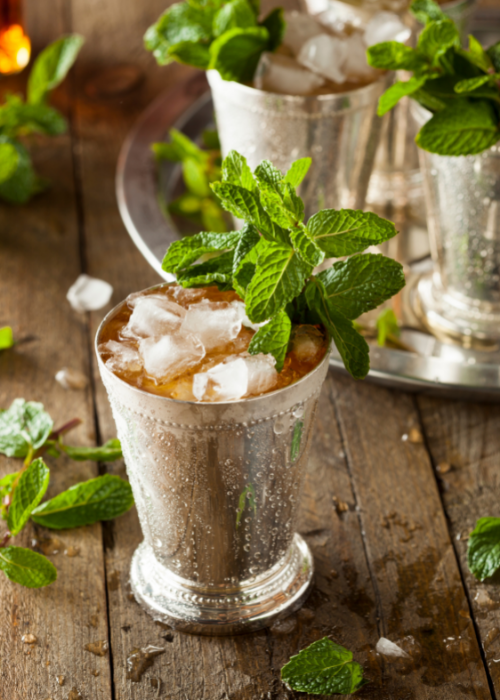 Mint Julep
The Mint Julep is the official drink of the Kentucky Derby, which happens every May. It's a tasty way to experience bourbon in a cocktail without it being too heavy or strong — perfect for a summer's day. 
Ingredients
8 mint leaves
2 oz. Kentucky Bourbon (like Buffalo Trace)
1/4 oz. simple syrup
Garnish: Mint sprig
Garnish: Angostura bitters (optional)
Steps
Place mint leaves in the bottom of a pre-chilled silver Julep cup or rocks glass. Add simple syrup and lightly muddle the mint leaves in the simple syrup to release the essential oils in the mint. Pack glass with finely crushed ice, then pour 2 ounces of Kentucky bourbon over the ice. Stir until the glass frosts. Add more ice and stir again before serving. Stick a few sprigs of mint into the ice to get the aroma, and garnish with  a couple drops of Angostura bitters (optional).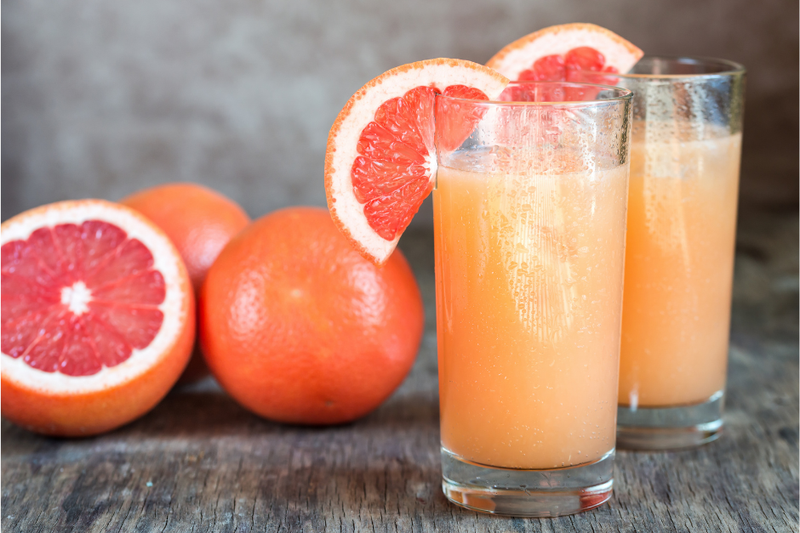 Paloma
With its bright colours and great tasting flavours, the Paloma is a big hit when it comes to summertime cocktails. The addition of grapefruit makes it extra citrusy for summer.
Ingredients
2 oz. Reposado Tequila
1/2 oz. fresh squeezed lime juice
Pinch of salt
4 oz. Grapefruit juice
Club soda
Lime for garnish
Directions
Mix tequila, lime juice and salt into a cocktail shaker with ice and shake. Pour into your glass filled with ice and top off with grapefruit juice and club soda. Add a lime peel for garnish and enjoy your refreshing summer drink.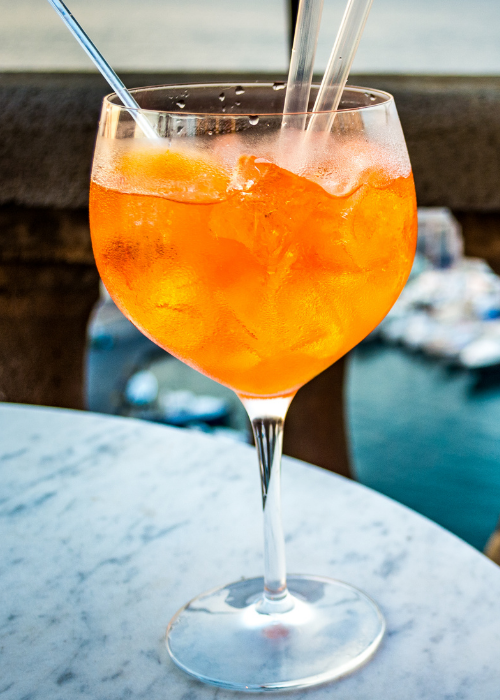 Aperol Spritz
The Aperol Spritz is a classic summer cocktail — slightly bitter but mostly sweet, let this cocktail transport you to the sidewalk patios of Italy. 
Ingredients
2 oz. Aperol
3 oz. Dry Prosecco
2 oz. club soda
Orange slice for garnish
Directions
Add Aperol and Prosecco into a large wine glass over ice. Top with club soda and garnish with a fresh orange slice.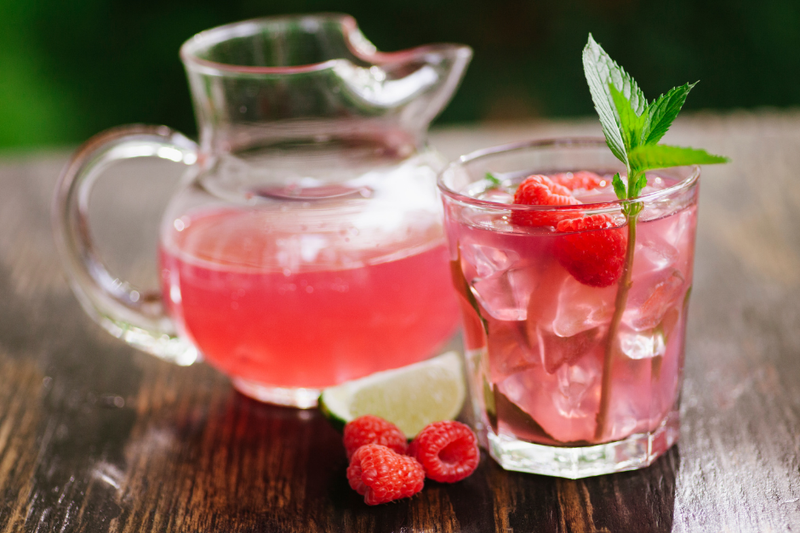 Raspberry Mojito
Elevate the classic mojito with a fruity addition! Bright, bubbly and refreshing, this version of the classic summer cocktail includes fresh berries and mint. 
Ingredients
6 mint leaves, plus more for garnish
6 fresh raspberries, plus more for garnish
2 oz. white rum
1 oz. lime juice
1 oz. simple syrup
4 oz. soda water
Steps
In a cocktail shaker, muddle the mint leaves with the raspberries. Add the rum, lime juice and simple syrup, fill the cocktail shaker with ice and shake until cold. Pour into a tall glass with ice then top with soda water. Garnish with additional mint leaves and raspberries.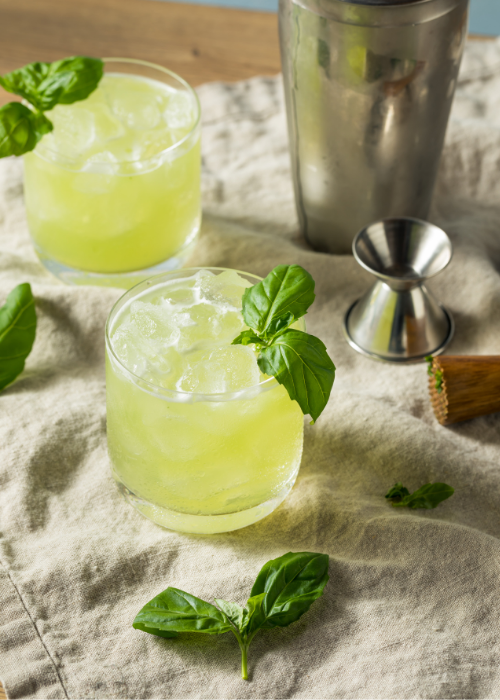 Gin Basil Smash
Summertime is gardening time, and what better way to use up some fresh garden herbs than in a summer cocktail! This modern spin on the Whiskey Smash is light and herbaceous, pairing peppery basil with botanical gin —  truly summer in a glass.
Ingredients
8 to 10 large basil leaves, plus more for garnish
2 oz. gin
3/4 oz. lemon juice
3/4 oz. simple syrup
Steps
Place the basil leaves in a cocktail shaker and muddle them (gently mash). Add the gin, lemon juice and simple syrup to the shaker. Fill the shaker with ice and shake until cold. 
Strain into an ice-filled lowball glass and top with a splash of soda water, if desired. Garnish with additional basil leaves, and enjoy!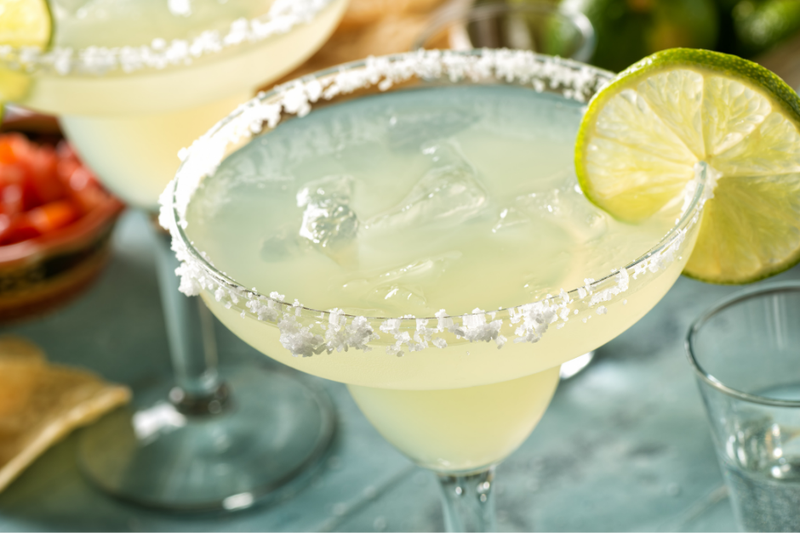 Margarita
A summer cocktail list would be incomplete without a Margarita, the pinnacle of summertime drinking. But you have to make it correctly, with Cointreau and freshly squeezed lime juice — steer clear of mixes!
Ingredients
2 oz. tequila
1 oz. Cointreau
1 oz. freshly squeezed lime juice
coarse salt
Directions
Chill a cocktail glass, and then rub its rim with lime juice before dipping it in coarse salt. Add tequila, Cointreau, lime juice, and ice together in a cocktail shaker. Shake for 15 seconds and then strain into the chilled glass over fresh ice.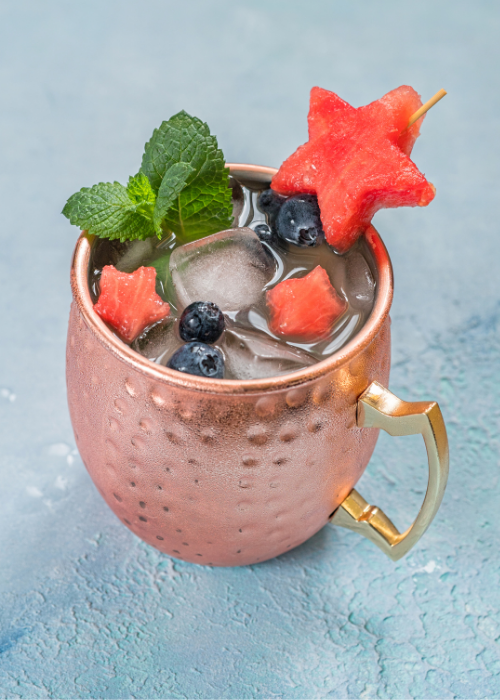 Watermelon Mule
A Moscow Mule is a classic drink for summertime, but this version with the summery flavours of watermelon is light and refreshing. Don't forget the classic mule copper mug, which helps keep the drink nice and cold!
Ingredients
1/3 cup watermelon juice (see Step 1)
1/4 oz. vodka
1/2 oz. lime juice, plus a lime slice for serving
1/3 cup ginger beer
Steps
Make the watermelon juice: To make 1 cup watermelon juice, add 2 cups cubed watermelon to a blender and blend until a juice forms. Then pour the juice through a fine mesh strainer into a clean container. This will make enough for 3 drinks, so make as desired!
In a copper mug or glass, pour in the watermelon juice, vodka, lime juice, and ginger beer. Add ice and garnish with a lime slice. Serve immediately and enjoy!