While there's no hard and fast rules about what you should and shouldn't drink throughout the different seasons—perpetual homedom has made sure of that—sometimes to beat the winter blues you have to drink seasonally. Lift your spirits and warm your belly with these seven classic—and upgraded— winter cocktail recipes. 
---
BOULEVARDIER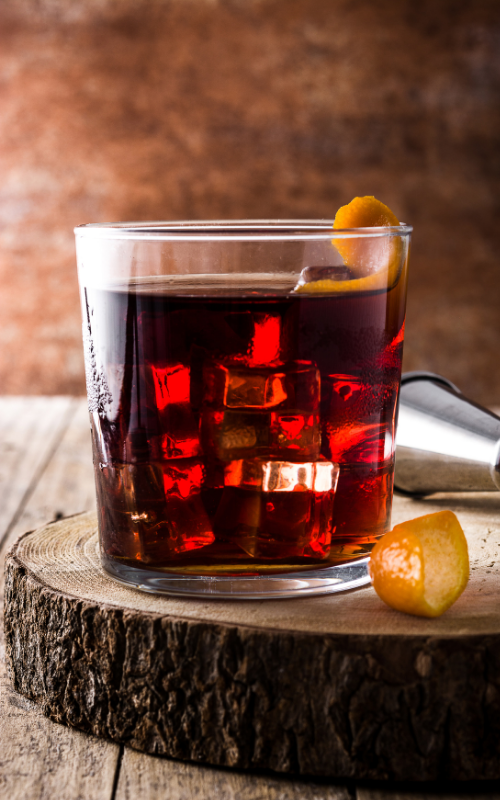 You may be a fan of Negronis, but have you ever tried a Boulevardier? A Boulevardier switches out the gin for bourbon or rye whisky, giving this tasty Italian bitter cocktail a rich and warming kick. But unlike the Negroni, which is equal parts gin, Campari and sweet vermouth, the Bourbon is featured in a slightly higher proportion, which helps to cut through the bitter Campari and the herbal vermouth, creating a beautiful balance of bitter, boozy and sweet. 
Loosely translated, the word "boulevardier" means a man about town, and was named after a magazine for expats in Paris in the 1920s. It's easy to make, and definitely the winter cocktail recipe you'll want to make on a chilly evening.
Ingredients
2 oz Bourbon (or rye whisky)
1 oz Campari
1 oz Sweet Vermouth
Handful of ice
Orange twist, for garnish
Steps
Add bourbon, Campari and sweet vermouth into a mixing glass with ice and stir for 30 seconds until well-chilled.
Strain into a rocks glass over fresh ice.
Garnish with an orange twist and enjoy!
---
HOT TODDY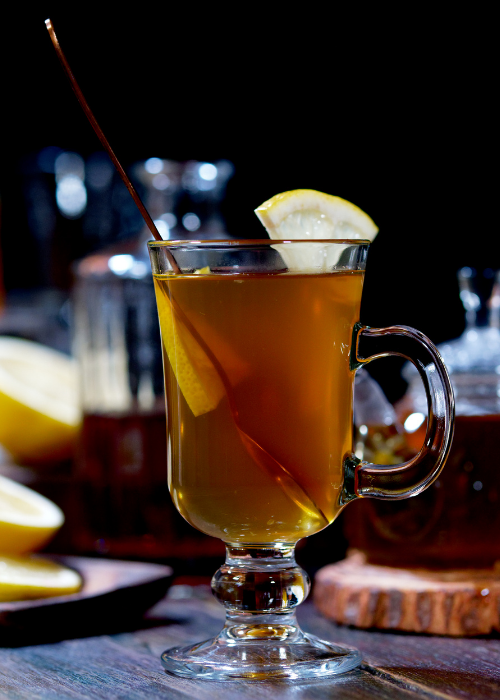 Some people swear on the Hot Toddy as the perfect remedy for a common cold. While we'd consult proper medical advice on that first, there's no denying that the Hot Toddy, served hot as you may have guessed, is a curing libation for a cold winter's night. The best thing about a classic Hot Toddy winter cocktail recipe is that it leaves room for the mixologist to be creative with the spices and base alcohol — you can really use any brown spirit (whisky, rum or Bourbon), because the best whisky to use in a hot toddy is the one you have on hand.
Ingredients
1.5 oz bourbon, whisky or rum
1 tablespoon honey
0.5 oz lemon juice
1 cup hot water
Lemon wedge, cinnamon stick and star anise, for garnish (optional)
Steps
Combine whisky, honey, lemon juice and hot water in a warmed mug.
Garnish with lemon wedge, cinnamon stick and/or star anise, if desired.
---
PAPER PLANE
The Paper Plane doesn't have as steep of a history as the Boulevardier or Hot Toddy (it was only invented in 2008), but it has achieved a ubiquitous status among bartenders and at cocktail bars. The cocktail's New York inventor, Sam Ross, was really into the popular song "Paper Planes" by M.I.A. at the time, which inspired the name. It's a perfect winter cocktail recipe for drinkers who are new to whisky - a tasty demonstration in balance and flavour. If you're up for the challenge, fold up a teeny mini paper plane for garnish.
Ingredients
3/4 ounce bourbon
3/4 ounce Aperol
3/4 ounce Amaro Nonino Quintessentia
3/4 ounce fresh lemon juice
Handful of ice cubes
Steps
Add the Bourbon, Aperol, Amaro and lemon juice to a cocktail shaker.
Add ice and shake for 10 to 15 seconds - don't overshake, as you don't want to water it down.
Strain the cocktail into a coupe glass, and enjoy.
---
WINTER SPICE OLD FASHIONED
The Old Fashioned was invented in Louisville, Kentucky, and is just about the most classic cocktail there is. So if you're a purist when it comes to old-fashioneds, this may be too outside the norm for you. But the use of the winter spiced simple syrup adds some welcome flavour to this already warming cocktail. 
Ingredients
2 oz bourbon
.5 oz winter spiced simple syrup*
2 dashes orange bitters
2 dashes aromatic bitters
Handful of ice
Cinnamon stick
Steps
Stir ingredients with ice in a cocktail shaker.
Strain into a rocks glass.
Garnish with a cinnamon stick.
*Simple syrup: Combine 1 cup sugar and 1 cup water in a small pot and heat over medium-high heat until the sugar has fully dissolved. For winter spiced simple syrup: simmer simple syrup with clove, cardamom, cinnamon, and nutmeg. Allow it to cool to room temperature before using.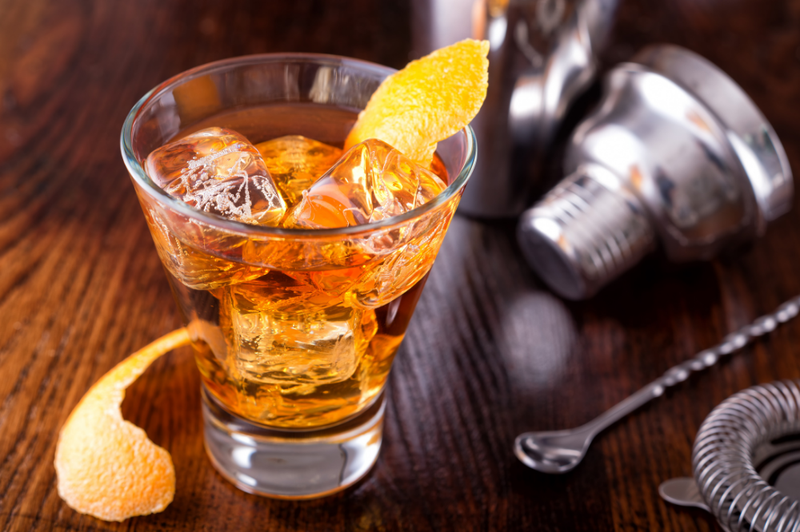 ---
BLUEBERRY TEA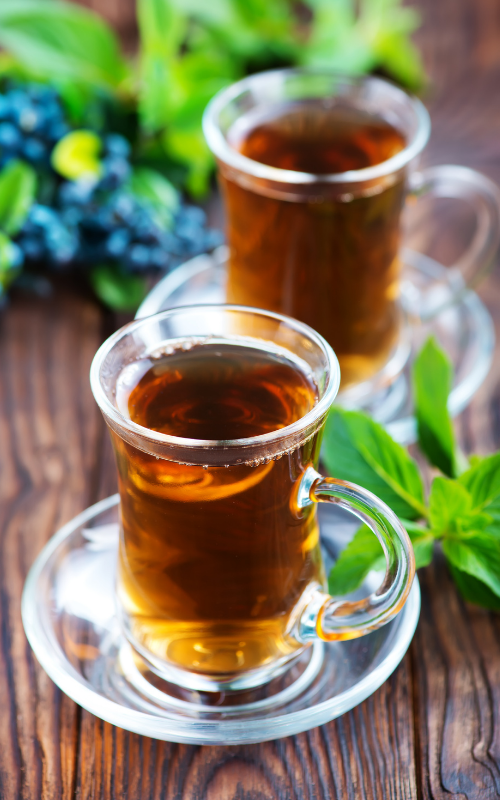 There aren't actually any blueberries in this warm cocktail, but the combination of flavours creates an aroma and taste reminiscent of blueberries! This winter cocktail recipe is surprisingly simple and is essentially spiked tea in a fancy glass, but this is a drink that gives just as much to your nose as it does to your mouth.  
Ingredients
1 oz amaretto liqueur
1 oz orange liqueur (such as Grand Marnier)
4 oz hot orange pekoe tea, or more to taste
Orange peel, for garnish
Steps
Combine amaretto and orange liqueur in a brandy snifter or glass.
Add hot tea to taste.
Garnish with an orange peel.
---
BLACK MANHATTAN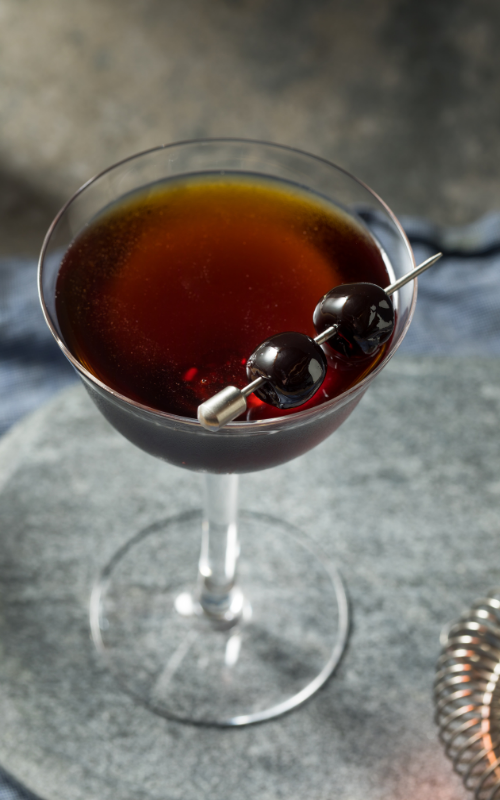 The Black Manhattan is a newer riff on the classic Manhattan, using Averna Amaro instead of sweet vermouth and rye whisky instead of Bourbon for that spice addition. Invented in 2005, this switch makes for a heavier, brooding wintry drink with notes of chocolate and spice. Perfect for a cold winter's night, or if you're seeking a winter cocktail recipe with a dark and mysterious quality.
Ingredients
2 oz rye whisky
1 oz Averna Amaro
1 dash Angostura Aromatic Bitters
1 dash Orange Bitters
Handful of ice
Maraschino cherry, for garnish (optional)
Steps
Combine all ingredients into a mixing glass
Stir with ice for 30 seconds
Strain into a chilled coupe glass
Garnish with a maraschino cherry and enjoy!
---
BRANDY ALEXANDER
Rumoured to be John Lennon's favourite cocktail, as well as inspiring a song by Feist, the Brandy Alexander is a real treat! This retro, brandy-based cocktail became popular in the early 20th century, and while it's not overly sweet, it's certainly indulgent. Some people prefer to go heavier on the brandy, but the classic recipe has worked for countless years and no use messing with perfection! Definitely a winter cocktail recipe perfect for dessert or closing out a long winter's night.
Ingredients
1 oz brandy
1 oz crème de cacao (dark)
1 oz cream 
Handful of ice
Ground nutmeg, for garnish
Steps
Place brandy, crème de cacao, cream and ice in a cocktail shaker. 
Shake until well combined
Strain into a serving glass
Sprinkle with ground nutmeg and enjoy.