Add a spring-like touch to your at-home bar — celebrate blooming flowers and warmer days with five of our favourite spring cocktail recipes. Plus, they're all easy to make, and use ingredients that you can find at Sherbrooke Liquor — some ingredients are even made at local distilleries so you can feel good about supporting local business while drinking these too! 
The Cherry Blossom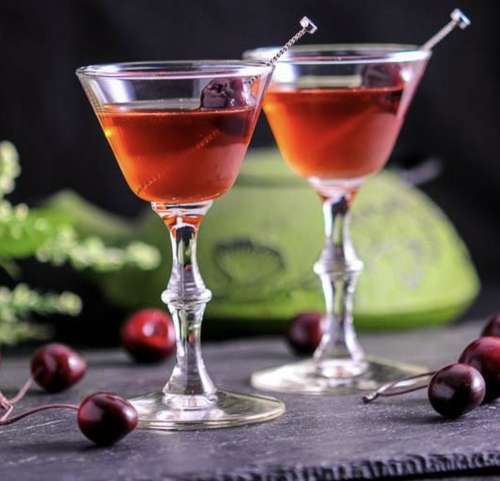 The brief but beautiful appearance of delicate cherry and Sakura blossoms in Japan is the namesake of this floral cocktail. And you know we love sake here at Sherbrooke Liquor —so this is a spring-inspired cocktail that uses sake as a base! Sake, along with gin, are perked up by the addition of orange liqueur and lemon juice. Don't forget the brandied cherry for garnish that helps this drink blossom with every sip. 
Ingredients
1.5 oz nigori Sake
1 oz cherry liqueur
0.5 oz gin
0.25 oz orange liqueur
0.25 oz grenadine
⅛ oz lemon juice
Brandied cherry, for garnish
Steps
Add all ingredients to a mixing glass filled with ice.
Stir until fully chilled.
Strain into two chilled coupe classes (this recipe makes 2!)
Garnish with brandied cherries
War of Roses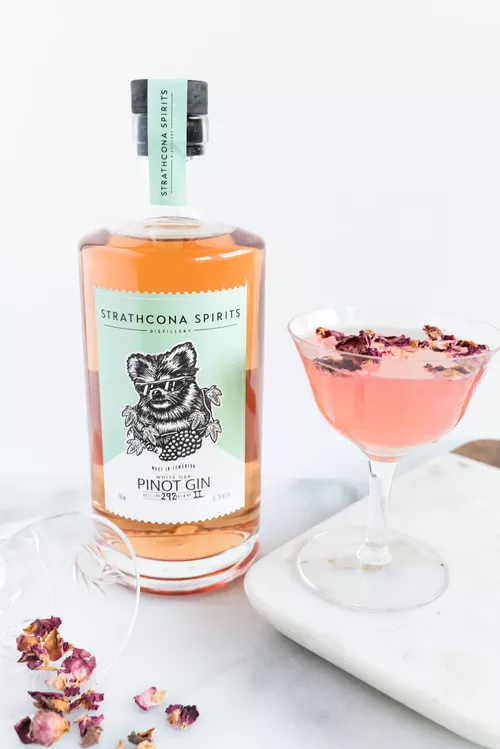 This recipe comes from local Edmonton distillery Strathcona Spirits, and uses their White Oak Pinot Gin as a base. This refreshing and vibrant gin cocktail has bright and lively flavours due to the blend of the gin, Aperol and Dry Tonic, plus its finished with a sprinkle of dried rose petals for an added touch of excellence.
Ingredients
1.5 oz Strathcona Spirits' White Oak Pinot Gin
0.5 oz Aperol
4 oz dry tonic
Dried rose petals for garnish
Steps
Fill a cocktail glass with ice.
Add gin and Aperol to cocktail glass and stir gently to combine the flavours.
Pour in dry tonic to add fizz to the mix.
Finish by sprinkling a few dried rose petals on top, adding a subtle floral aroma to the drink.
Rhubarb Lemon Fizz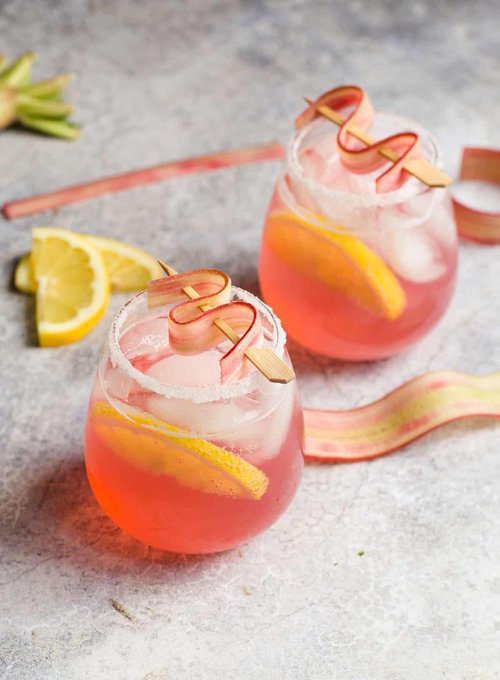 There's no shortage of rhubarb in spring in Edmonton — if you don't have any rhubarb, you probably know someone who does and is looking to offload it! Prepare this cocktail in advance by making the rhubarb simple syrup first and letting that cool before using it in the drink. 
Rhubarb Simple Syrup Ingredients
1 cup water
1 cup rhubarb, chopped up into ½ inch pieces
½ cup sugar
Rhubarb Simple Syrup Steps
Combine all ingredients in a saucepan and bring to a boil.
Reduce heat and simmer for 20-25 minutes until the rhubarb has fallen apart and the mixture has thickened.
Remove and allow syrup to cool to room temperature.
Strain into a glass jar through a very fine mesh strainer while gently pressing the fruit to extract as much of that delicious juice as possible. Discard the solids or use for a jam.
Can be stored in the refrigerator for several weeks.
Cocktail Ingredients
2 oz vodka
1 oz rhubarb simple syrup
1 oz fresh squeezed lemon juice
Club soda or dry sparkling wine (such as Cava or Prosecco)
Cocktail Steps
Add the vodka, rhubarb simple syrup, and lemon juice to a cocktail shaker and fill with ice.
Shake vigorously, and then strain into a glass filled with fresh ice.
Top with club soda or sparkling wine, and garnish with lemon wheel.
Hugo Spritz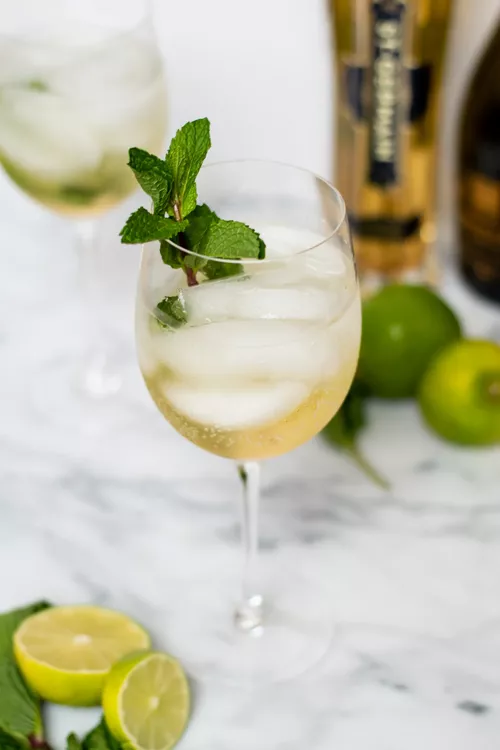 You've heard of the Aperol Spritz — but now get to know the Hugo Spritz, a popular aperitivo in Northern Italy. In fact, every second cocktail made in Italy that isn't an Aperol Spritz, is a Hugo Spritz. This spritz lacks bitterness and is lower in alcohol, and is a delicate and refreshing mixture of elderflower, mint and citrus. Its sweet botanical notes play well against the dry bubbly, making it the perfect pre-dinner drink.
Ingredients
1 oz St. Germain or other Elderflower Liqueur
3-4 fresh Mint Leaves
1 small slice lime
4-5 ounces Prosecco, chilled
Ice
Instructions
Fill a wine glass with ice. 
Pour one ounce of St. Germain or other Elderflower liqueur directly over the ice, and then add a few mint leaves and a slice of lime.
Top off the glass with 4-5 ounces of chilled Prosecco.
Briefly stir and enjoy immediately!
The Spring Buzz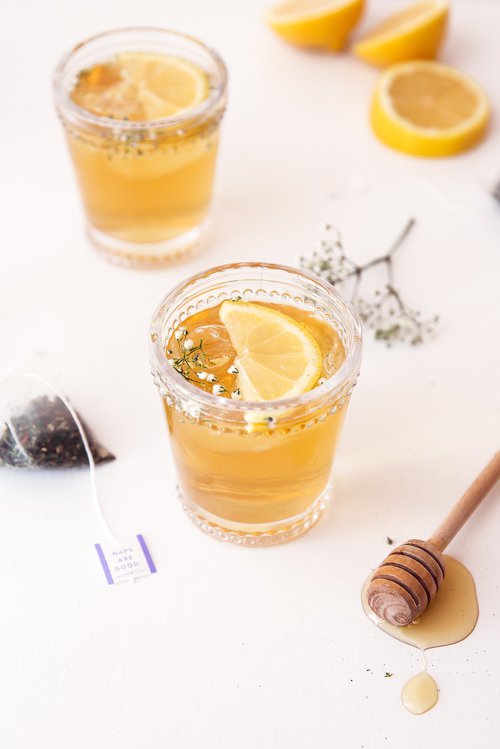 Not unlike a chilled hot toddy, this cocktail containing chamomile, whiskey and honey will put you in the mood for warm weather and send away any lingering sniffles from spring allergies. A perfect drink for warm nights when you want something both calming and refreshing! This recipe is made for two, but you can easily scale it up and serve in a pitcher, topped with edible white flowers.
Ingredients
1 1/2 cups water
1 bag chamomile tea (or more if you want more chamomile flavour)
2 teaspoons honey
2 ounces whiskey
1/2 ounce St. Germain or other elderflower liqueur
squeeze of lemon juice
edible flowers and lemon wedge, for garnish
Instructions
In a small saucepan, bring water to a boil. Steep 1 bag chamomile tea for 5 minutes, then remove the tea bag and stir in the honey. Allow to cool completely.
In a rocks glass over ice, stir in 1 ounce whiskey and 1/4 ounce St. Germain or elderflower liqueur. Pour in 2/3 cup tea and finish with a squeeze of lemon juice. Top with edible flowers and a lemon wedge, if desired. Repeat with the second glass.