Prosecco is a refreshing, bubbly wine that usually comes at a much lower price tag than Champagne. Made from Glera grapes that hail from the Prosecco subregion of Italy's Veneto province, Prosecco's bubbles are formed via the tank method as opposed to a second in-bottle fermentation. This leads to a lighter, fruitier sparkling wine with soft bubbles — that mild flavour combined with the low price makes it the perfect addition to a cocktail! 
While Prosecco is a great drink to have on its own on a patio, here are five of our favourite Prosecco Cocktail recipes that are great for celebrating summer.
Hugo Spritz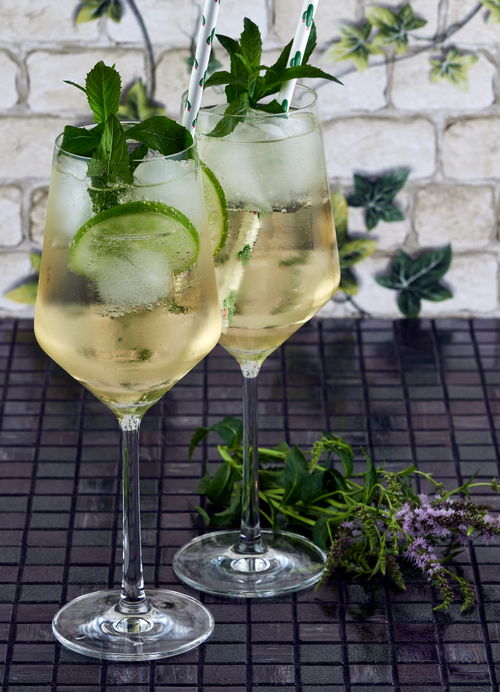 According to #DrinkTok, the Hugo Spritz is THE drink of summer 2023. This spritz lacks bitterness and is lower in alcohol, and is a delicate and refreshing mixture of elderflower, mint and citrus. Its sweet botanical notes play well against the dry bubbly, making it the perfect pre-dinner drink. Note — you can make a spritz the same way with almost any aperitif, such as Aperol, Campari, Amaro Montenegro, and more! Just swap out the St Germain with your liqueur of choice, and swap out Mint Leaves and lime with other kinds of citrus like lemon or orange, depending on the flavour you're after.
INGREDIENTS
2 oz St. Germain or other Elderflower Liqueur
3-4 fresh Mint Leaves
1 small slice lime
3-5 ounces Prosecco, chilled
1 oz soda
Ice
INSTRUCTIONS
Fill a wine glass with ice. 
Pour one ounce of St. Germain or other Elderflower liqueur directly over the ice, and then add a few mint leaves and a slice of lime.
Top off the glass with 4-5 ounces of chilled Prosecco and 1 oz soda.
Briefly stir and enjoy immediately!
French 75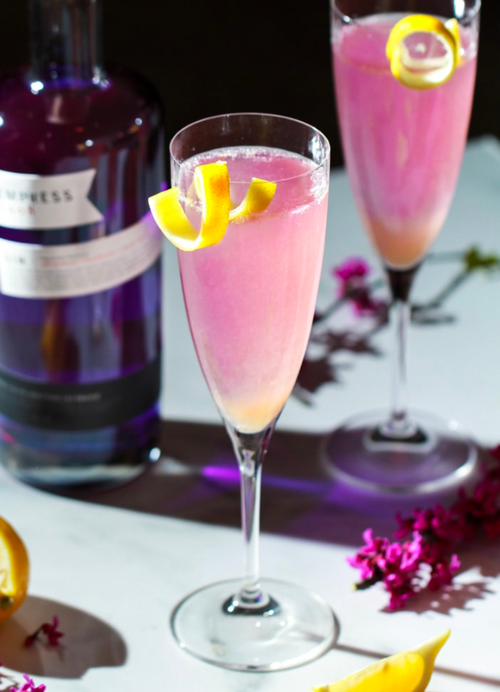 This is a classic cocktail made from gin, lemon juice and Prosecco or other sparkling wine. It's super refreshing for summer with that mix of citrus and sweetness. The French 75 dates back to 1915, and earned its name for packing a punch like a 75mm artillery gun from World War I! While you can make this cocktail with any gin, we're partial to using a gin like Empress or Epitaph, which both change into a gorgeous purple colour after the addition of citrus!
INGREDIENTS
1.5 oz gin of choice
3/4 oz lemon juice
½ oz simple syrup
3 oz Prosecco
INSTRUCTIONS
Combine gin, lemon juice and simple syrup in a cocktail shaker filled with ice.
Shake vigorously to incorporate the citrus for 15 seconds and strain into a chilled Champagne flute.
Top with Prosecco and garnish with a lemon peel. 
Bellini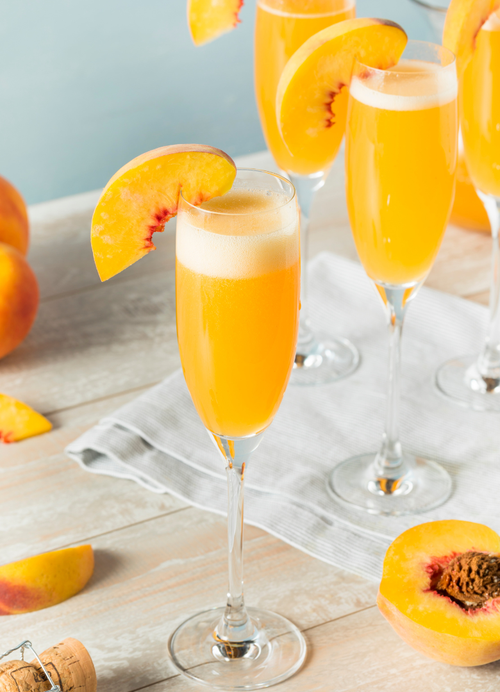 This traditional cocktail from Northern Italy combines the refreshing fruitiness of white peaches with light, refreshing Prosecco. We can't think of a better combination for a summer cocktail! And it's incredibly simple to make — you only need two ingredients, peach puree and Prosecco. Make your peach puree by either peeling fresh peaches and blending them, or using frozen peaches and letting them thaw before blending. 
INGREDIENTS
For the peach puree:
1½ pounds ripe or frozen peaches (about 4), peeled, pitted, and sliced
For the cocktail:
2 ounces peach puree
4 ounces well-chilled Prosecco
Peach slices, for garnish
Fresh mint, for garnish
INSTRUCTIONS
Make the peach puree. Thaw peaches if frozen. Puree peaches in a blender until smooth. (You will have leftover peach puree to use in another cocktail; just keep it refrigerated and use in 2-3 days).
Pour 2 oz (1/4 cup) of peach puree into a Champagne flute and top with Prosecco.
Stir gently to combine.
Garnish with a peach slice and a sprig of fresh mint.
Negroni Sbagliato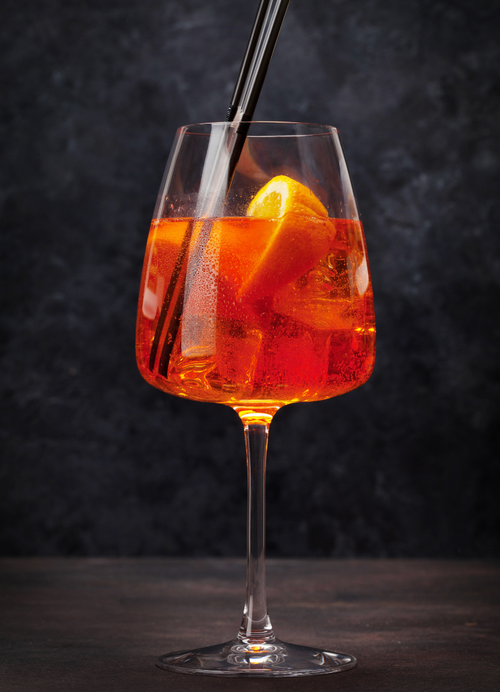 "Sbagliato" in Italian means "mistake" — and that's exactly how this Prosecco cocktail came to be. In 1972, Mirko Stocchetto from Mioan's Bar Basso accidentally added sparkling wine to a Negroni instead of gin — and the Negroni Sbagliato was born. If you like your cocktails more on the bitter side, or are a fan of Negronis and want to add a touch of fizz, this is a great cocktail for you. 
INGREDIENTS
INSTRUCTIONS
Mix together equal parts of each ingredient in a low-ball glass over ice. 
Garnish with an orange slice, and enjoy!
Prosecco Margarita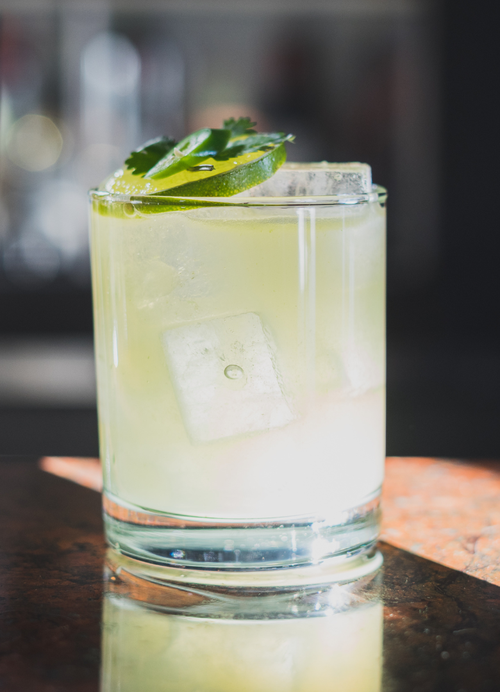 If your summer ride-or-die drink is a margarita, try switching it up with a Prosecco Margarita! Adding Prosecco to the classic Margarita is a match made in heaven while adding a bit of soft bubbles and fizz. Margaritas are also a great cocktail to make in bulk for a party, making this the best Prosecco Cocktail to serve to a crowd. Prepare the margarita mix in advance, and just be sure to add the Prosecco to each glass individually as you serve them to keep that sparkle fresh. 
INGREDIENTS
1.5 oz Blanco Tequila
2 oz lime juice
¾ oz Triple Sec or Cointreau
Dash simple syrup (optional, for sweetness)
Prosecco
Lime slices
Coarse salt for glass rims
INSTRUCTIONS
Prepare the glass. Rim the glass with salt by rubbing a wedge of lime around the edge, then dip the edge in the salt to make sure the entire circumference is covered. Fill the prepared glass with ice.
In a mixing glass, combine the tequila, lime juice, triple sec, and syrup. 
Pour the margarita mix into the prepared glass and top with Prosecco.
We hope you enjoy these Prosecco cocktails this summer as much as we do! As a note, Prosecco is available in a range of sweetness levels:  Brut being the driest (least sweet), then Extra Dry, Dry, and finally Demi Sec for the most sweetness. Depending on the flavour profile you're after in the cocktail, you can experiment with the different sweetness levels of Prosecco available at Sherbrooke Liquor!