High time for Wine
Wine Guide
There are A LOT of wine varietals. They say there are more varietals of wine in the world than there are stars in the sky. Wait. No. I got that backwards. And on second thought, I think it's "grains of sand" and not wine at all. My bad. Still, there're a lot. And, in this guide, you can expect to find history and background, flavours and nose, and some pairing suggestions for many of them: both white varietals (Chardonnay, Chenin Blanc, Gewurztraminer, Moscato, Pinot Blanc, Pinot Grigio/Gris, Riesling, Sauvignon Blanc, Semillon, Torrontes, and Viognier) and red grape varietals (Cabernet Franc, Cabernet Sauvignon, Gamay, Garnacha/Grenache, Malbec, Merlot, Pinot Noir, Sangiovese, Syrah/Shiraz, and Zinfandel).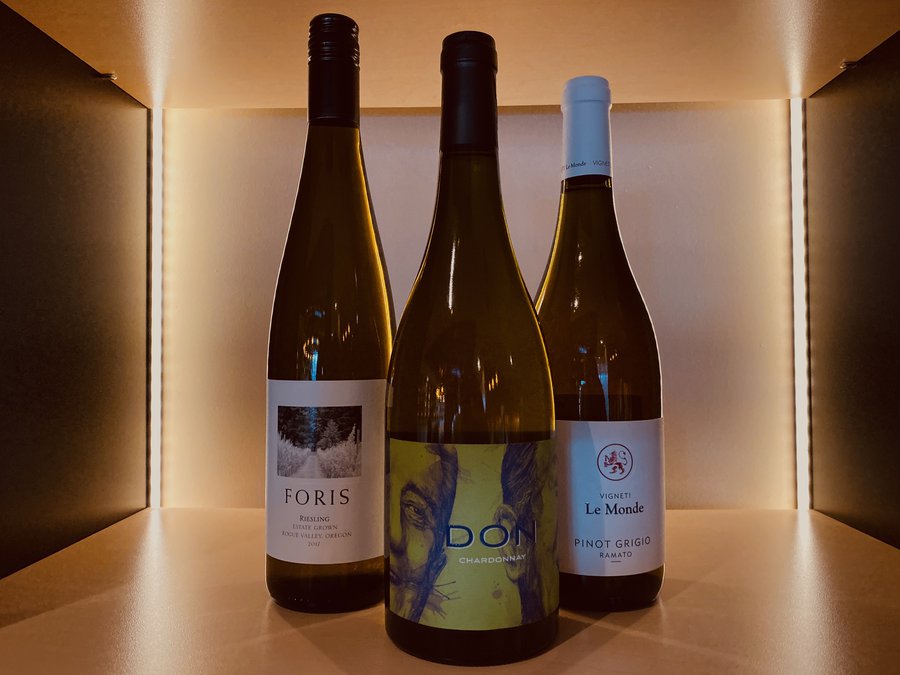 CHARDONNAY
One of the most popular varietals worldwide, Chardonnay is a medium-bodied grape with medium acidity. Originating in Bourgogne it is widely planted in many wine growing regions.
Chardonnay's profile can include:
Apple, pineapple, star fruit, buttered corn
Oaked examples may have notes of vanilla and a more buttery profile
CHENIN BLANC
Most well known from the Loire Valley in France, with another significant presence in South Africa, Chenin Blanc grows worldwide. Chenin Blanc's grape is medium light in body, but medium-high in acidity-- making it a crisp bright choice.
Chenin Blanc's profile can include:
Notes of Golden Delicious apple, quince, pear and chamomile with honey
GEWURZTRAMINER
Gewurztraminer–or just Gevurtz, to its friends–literally means Spicy Traminer, and boy will you be rewarded with spicy aromas when you try Gewurztraminer. Grown widely in the Alsace and Germany, this grape is very often found in off-dry styles. Great with spicy Asian dishes.
Gewurtztraminer's profile can include:
Lychee fruit, cinnamon, and rosy floral notes
MOSCATO
One of the most aromatic varietals, Moscato is magic. You may know it as a sweet white, but when vinified dry it's enchanting as well.
Moscato's profile can include:
Rose petal, lychee, pear and orange blossom
PINOT BLANC
Actually a genetic mutation of Pinot Noir, Pinot Blanc has a profound minerality. With light body and medium acidity, you may detect lemon pith on the palate as well. Great for pairing with savoury white meats and vegetarian dishes.
Pinot Blanc's profile can include:
PINOT GRIGIO / PINOT GRIS
Another mutation of Pinot Noir, Pinot Grigio is one of the world's most popular white* grapes. Its skin tends to be pink, so when the juice is left on the skins at crush time we get what the Italians call Ramato: a pink Pinot Grigio. These tend to be a little more plush and flavourful than their pure white counterparts.
Pinot Grigio/Gris' profile can include:
Elegant notes of peach, melon and citrus
*It's funny that it's known as a white grape because it's actually a grey grape...right between red and white.
RIESLING
Grown most famously in Germany, Riesling is popular with wine growers all over the planet. With light body and high acidity, Riesling runs the gamut from dessert wine to dry sparkler and is great whether it's vinified sweet or dry. Great with Asian fare.
Riesling's profile can include:
SAUVIGNON BLANC
Looking at the wine-grape family … tree? vine?, Sauvignon Blanc would be something like a mother to Cabernet Sauvignon. Hailing from France, Sauv Blanc has medium-light body and high acidity with a variety of flavours (depending on where the grapes are grown). It's a great wine for food pairing and refreshing all on its own.
Sauvignon Blanc's profile can include:
Grassy or grapefruity
It also displays passion fruit, melon and gooseberry
SEMILLON
This guy's most commonly from France and Australia. It's often blended with Sauvignon Blanc, but Semillon is wonderfully complex with medium acidity and medium body when left to its own devices. These are elegant and weighty wines.
Semillon's profile can include:
Peachy, beeswax nose that's backed up by a salty lemon character
TORRONTES
An aromatic grape from Argentina, Torrontes has a very smooth texture that makes it wonderful to drink. Torrontes' medium-light body and medium acidity means it pairs quite nicely with a hot day and a patio.
Torrontes' profile can include:
A distinct nose of stone fruit with notes of geranium and roses
VIOGNIER
Vee-on-yay! Most famously from the Rhone (fun fact: it's the only grape permitted in Condrieu, one of the world's great white wine regions). Medium-to-full bodied, Viognier has medium-low acidity, giving it a hefty (almost oily) weight on the palate. Oddly enough it's a genetic cousin to Nebbiolo.
Viognier's profile can include:
Honey'd notes of rose petal, apricot, orange and mango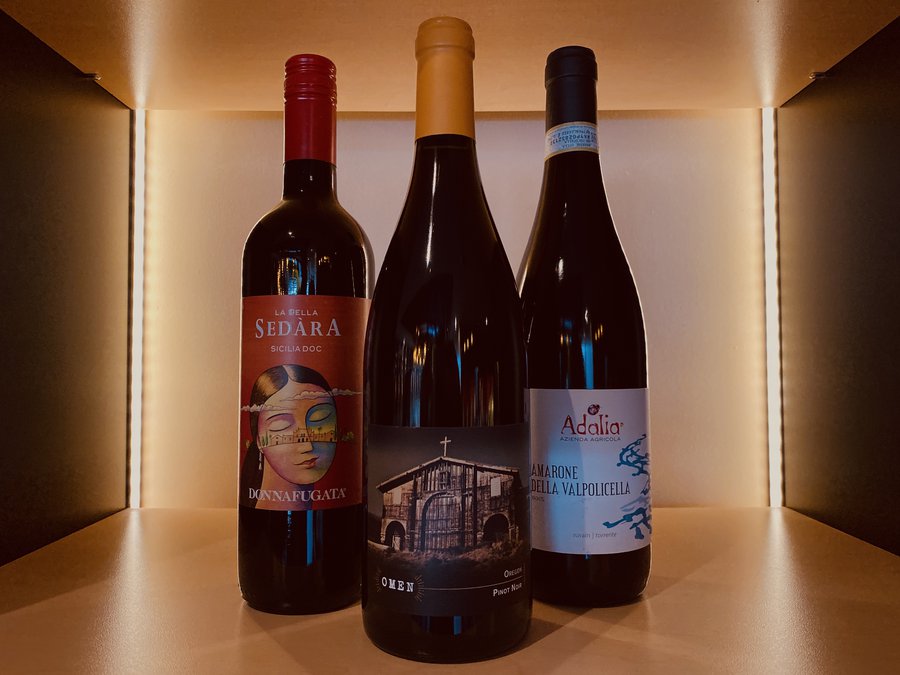 CABERNET FRANC
(a.k.a. Bouchet)
Cabernet Franc: estranged father of Cabernet Sauvignon (please don't mention Sauvignon Blanc in his presence - it'll just get awkward). Juicier with more approachable tannins, it was once one of the main grapes in Bordeaux blends and still the main varietal in Ch Cheval Blanc! A major player in the Loire Valley it displays medium-high tannin and acidity.
Cabernet Franc's profile can include:
Characteristics of red berries with hints of violet, chili pepper, black currant and wet stone
CABERNET SAUVIGNON
(a.k.a. Petit-Bouchet, Sauvignon Rouge, etc.)
The love-child of Sauvignon Blanc and Cabernet Franc, Cabernet Sauvignon is arguably the most recognized wine grape of all. Great expression in Bordeaux, Napa Valley, Argentina, Australia, Chile and South Africa. Cab Sauv's medium-high tannins and medium acidity means it's full-bodied and often improves with age.
Cabernet Sauvignon's profile can include:
Aromas of cassis, wild cherry, cedar, spice, pencil shavings and menthol
GAMAY
With low tannin and medium-high acidity, Gamay is the go-to wine for Sommeliers all o'er when looking to pair with a vast array of food. Carbonic Maceration may soften the acidity as when (most famously) grown in Beaujolais. A portion of new wine in Beaujolais is released yearly on the 3rd Thursday of November as Beaujolais Nouveau. The Nouveau gives a glimpse into what that vintage will express. Notable examples are grown in the Loire Valley, Niagara Peninsula and the Willamette Valley.
Gamay's profile can include:
Earthy, sometimes chalky notes of peony, sour cherry, and blackberry with fresh red fruits on a juicy background
GARNACHA / GRENACHE
(a.k.a. Alicante, Aragone. Cannonau, Garnaxa, Mencida, Navarra, Sans Pareil, Tintilla, etc. etc. etc.)
This is one of the most widely planted grapes in the world. Originating in Northern Spain, Grenache grows abundantly in Spain, France (esp. Southern Rhone & Languedoc), Australia, & the U.S. It produces rich, plush wines. Because of its medium tannin and acidity it is often used in blends with more tannic or acidic varietals to achieve greater balance.
Grenache's profile can include:
Strawberry, plum and sometimes even citrus notes
Older examples might suggest leather and road tar
MALBEC


(a.k.a. Cot, Cahors, Doux Noir, Grifforin, Jacobain, Negrera, Perigord, Romieu and Vesparo… Malbec has ~1000 synonyms)

Although Mabec is best known for growing in Argentina, it originates from France. Once known as the Black Wine of Cahors, Malbec produces very dark, pleasant, easy-drinking reds and its medium tannic structure and low-to-medium acidity makes it very useful in blends as well. It was one of the main varietals in Bordeaux until frost took out 75% of the crop in 1956 (when it was then replaced with somewhat hardier varietals).

Malbec's profile can include:
Notes of blackberry, plum, chocolate and fresh tobacco
MERLOT


(a.k.a. Aka Black Alicante, Crabutet,Higney, Plant du Medoc, Seme dou Flaube, Vitraille and more)

Named after a local Blackbird (Merle) in Medoc that liked to eat the ripe berries, Merlot is the main grape in one of the most famous and rare wines in the world, "Chateau Petrus". It is grown in wine regions all over the planet producing full-bodied wines with velvet soft tannins. The movie Sideways did Merlot no favours–sales dropped 2%–but it produces wines of excellent quality enjoyed by most wine drinkers. This wine pairs beautifully with any grilled meat dish or even some 'zza and burgers.

Merlot's profile can include:
Notes of blackberry, blueberry, raspberry, plum and cherry
Oak aging adds notes of chocolate, mocha, vanilla and spice
PINOT NOIR
From Pine Noir ("Black Pine" in French) because the small tight grape clusters resemble pine cones. Pinot Noir's spiritual home is in Burgundy but it is grown all over the world. Like the character it personified in the movie Sideways, Pinot Noir is thin-skinned and finicky both in the vineyard and the cellar. But when properly handled, it can produce beautiful wines light in colour but rich in flavour and complexity. Medium in body with medium high acidity, Pinot Noir is a gem when paired with rich meats and sauces. It can be a worthy match for many unexpected foods, so it's a good wine with which to experiment.
Pinot Noir's profile can include:
Floral notes of cherry, mushroom and raspberry can evolve with age to more earthy "barnyard" aromas only adding to its complexity
SANGIOVESE
The most widely planted grape in Italy (and the gem of Tuscany), Sangiovese tends to be medium in body and higher in tannin and acidity. Thought to be the offspring of Ciliegiollo and a nearly extinct varietal called Calabrese Montenuove, there are at least fourteen different clones (with Brunello being the most famous).
Sangiovese's profile can include:
Aromas of cherry, field herbs, tomato stems, coffee and wool sweater
Young examples may give more spiced strawberry jam impressions, and older wines aged in oak will reflect that oak and sometimes smell like freshly tarred road
SYRAH / SHIRAZ
Here's a very dark-skinned grape that makes very dark, full-bodied red wines. Syrah is grown all around the globe but perhaps most famously in France's Rhone Valley and the Barossa in Australia. It has medium weight tannins and acidity, and will offer different flavour and aroma profiles when grown in different climates. Syrah is the 'S' in the famous GSM (Grenache, Syrah, Mourvedre) blend and is not to be confused with its offspring Petite Syrah (a.k.a. Durif) which is more full-bodied and tannic than its parent grape.
Syrah/Shiraz's profile can include:
Elusive floral notes of black and blue berries, chocolate and coffee as well as smoky, earthy notes of leather and black pepper
ZINFANDEL
Zinfandel has one of the most complicated histories of all the grape varietals. It is now accepted that the varietal originated in Croatia (and is a parent of that region's Plavac Mali) whereas the most famous Zinfandel clone, Primitivo, is grown in Italy. Regardless of origin or name, wines made from these grapes can fall anywhere on the spectrum from sweet rose to fresh light reds to dark mysterious reds and even late-harvest dessert wines. As a table wine, Zinfandel is known for its medium-low acidity with medium weight tannins. Due to its natural sweetness, some Zinfandels can reach 15% alcohol and above.
Zinfandel's profile can include:
Plush notes of blackberry, raspberry, strawberry, tobacco, and exotic spice